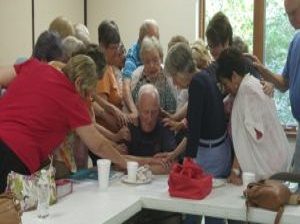 Dittos

We meet every Wednesday at 9:30am.
Dittos is a seniors' ministry offering a very welcoming and fun fellowship of people who love God, love each other and love welcoming new friends to the group!
Our group meets to study God's Word, encourage and pray for one another, and serve our community through monthly outreaches in Loveland's retirement care facilities.
for more information!
J.O.Y.
(Just Older Youth for "kids" ages 50 and over)
We meet once a month on Thursdays
for lunches and outings.
Pictures are from Serving at Matthew 25.
xperience wonderful fellowship and the blessings that come from being in community with one another and serving the Lord together!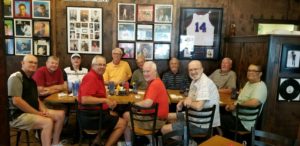 R.O.M.E.O.'s
(Retired Older Men Eating Out)
We will be going out to eat at Roosters Jan. 25 @ 11:30am. Please join us.

Men are invited to come out, enjoy a great lunch together, and meet new friends. The men get together on the fourth Thursday of the month to share a meal, develop and enjoy new friendships.
Contact Mike Dial at
for more information!
Step by Step
We meet Friday's at 9:00am on the Loveland Bike Trail
*Our walks are weather permitting*
**We are taking a break for the Winter. Please join us when we start walking together again in the Spring!**
Step by Step is our walking ministry. The bike trail is easy to walk, with no incline and shaded by trees. All paces and ages welcome. We break off in groups – slow, med, and fast walkers so no one walks alone.
for more information!