Welcome to
Loveland United Methodist Church!
We are people on a mission, "Connecting Faith With Life." We believe that this is best done through LOVE:
Lasting Service
Outward Focus
Vibrant Small Groups
Engaging Worship
You have likely heard about us because of our Vacation Bible School in June that engages over 200 kids or our three-day Living Nativity hosted in early December that helps nearly 2,000 folks be a part of the story of Jesus' birth.
Now that you have found our web page, you may want to know more. My name is Brad Olson. I am the pastor and head Jesus follower here. I am often found in the Gathering Area catching up with folks.
We would love for you to join us this Sunday morning!
We have guests who are here for the first time nearly every Sunday, so you will not be alone. We will not single you out, ask you to stand, or make you wear a special name tag, but we do like meeting new people, so there will be a number of people who are sure to introduce themselves to you
There is a lot of information on this website. You can also find us on Facebook, YouTube, through our weekly e-mail, and we have an app!
The best way to keep up on what is going on is with
Sunday's bulletin and "The Happenings".
Questions?
Please contact us at lovelandumc@lovelandumc.org or
(513) 683-1738.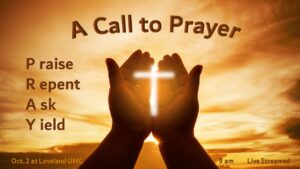 From Pastor Brad:
We are issuing "A Call to Prayer." I challenge you to pray each day this month, "Come Holy Spirit, fill my heart with more of you." Sunday we will wrap up our look at 'Pray' as an anacronym. Where 'P' reminds us to Praise. 'R' reminds us to Repent. 'A' reminds us to Ask. "Y" reminds us to yield. The reading will be from Matthew 4:1-11.
As it is the first Sunday of the month, we will celebrate the sacrament of Holy Communion. There will be one combined service at 9, then we will have a conversation about the State of the Church at 10:30. We will have in-person services at 9 and 10:30. We will have nursery and in-person Sunday School for the kids at 10:30. We continue to Live-Stream the service at 9 on Facebook. Masks are optional.
I look forward to seeing you Sunday!
Join us for worship on Sundays!
(Masks are optional, but please feel free to wear a mask
and/or social distance to your comfort level.)
Sunday Worship
9:00am and 10:30am
Sunday School
10:30am
GIVE
GIVE TO LOVELAND UNITED METHODIST CHURCH
The link below will take you to Vanco Online, our NEW secure giving platform.
FIND
10975 S. Lebanon Road
Loveland, Ohio 45140
(513) 683-1738
lovelandumc@lovelandumc.org
Office Hours:
Mon-Thu
FREE!
Here's a

free

gift for you: