brado@lovelandumc.org
Pastor Brad Olson, Lead Pastor

Brad refers to himself as our "Head Jesus Follower" and has been at Loveland UMC since 2016. Brad started seminary at Colgate School of Divinity in Rochester, NY and transferred to United Theological Seminary where he received his Master's of Divinity. He has been with the West Ohio Conference since 1990.
Brad has competed as a Power-lifter, winning five National Championships and four World Championships. He also served as an Olympic Chaplain when the games were in Atlanta.
Brad and his wife Dawn purchased their first house in Loveland. They have three grown children and three grandchildren. They are very excited to be a part of the Loveland community and Loveland United Methodist Church!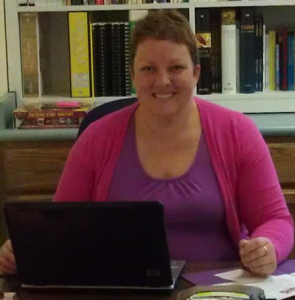 sharonw@lovelandumc.org
Sharon White, Director of Music and Family Ministry
Sharon has been on staff since 2012. Her multi-faceted job means she is involved in everything from kid's crafts to adult Bible studies to worship planning, and loves interacting with our multi-generational church family, which she sees as one of LUMC's greatest strengths. Sharon holds a Bachelor's of Education from the University of Cincinnati. She and her husband, Rob, spent time in Japan, Germany and up and down the East Coast with the United States Army for 23 years, serving on church staff or in lay leadership in every location they have lived. Sharon now lives in Loveland with Rob and their two adult children.
emilyd@lovelandumc.org
Emily DeYoung, Worship Leader/Accompanist
Emily DeYoung is Loveland UMC's Worship Leader and Chancel Choir accompanist. She has been involved in the Praise Band at LUMC for a number of years and has accompanied the choir since 2018. Emily has been playing music ever since she can remember and has accompanied bands, choirs and musicals for over ten years. In college she studied philosophy and physics and received a BS from Indiana Wesleyan University in 2019. Emily is passionate about sharing the unconditional love of Christ with others through music in the hope that they can find joy, peace and healing through relationship with Him. Emily lives in West Chester with her young daughter, Iona.
Lisa Robinson, Adult Discipleship Coordinator Lisa Robinson joined the staff of LUMC in March 2020 as the Adult Discipleship Coordinator. A longtime member, Lisa brings with her years of leading and writing curriculum for Bible studies for adults. In addition to her role on staff she continues to co-teach the Dittos Senior Bible Study and Junior High Sunday School/Confirmation class. She also volunteers as a counselor with our FUEL Youth Group. Lisa grew up in Loveland and is a graduate of Loveland High School. Her parents Mike and Georgie Morr still reside in Loveland and also attend Loveland UMC. Lisa and her husband Rick live in Deer Park with their two adult children and two crazy labradors. She refers to her role at LUMC as her dream job!
Paxton Dellinger, Director of Youth Ministry
Paxton has been a devoted member of LUMC since 2016. Immediately expressing interest in supporting church efforts, he's been involved in mission work led by our Men's Group, and playing a key part in both our Living Nativity and VBS ministries. Paxton has contributed to our Outward Focus efforts, assisted as a Sunday worship participant and served as Leadership Council Chair. He began volunteering with our Youth Group in 2018, and accepted the position of Director in August of 2019. Paxton attended Columbus College of Art and Design and is passionate about music, arts and local community. His professional background includes 20+ years operations management, leadership development and training. He lives in Loveland with his wife Jennifer and their two sons.