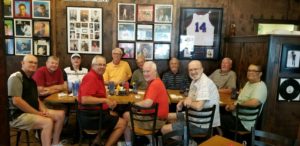 R.O.M.E.O.'s
(Retired Older Men Eating Out)
Men are invited to come out, enjoy a great lunch together, and meet new friends. We get together on the fourth Thursday of the month to share a meal, develop and enjoy new friendships.
July 26th we will be meeting at Two Cities Pizza in Mason
@ 11:30am.
Contact Mike Dial at
for more information
J.O.Y.
(Just Older Youth for "kids" age 50 and over)
We meet once a month on the second
Thursday for lunches and outings.
[pictures are from serving at Matthew 25]
Experience wonderful fellowship and the blessings that come from being in community with one another and serving the Lord together!
Contact the church office
lovelandumc@lovelandumc.org
Step by Step
We meet Fridays at 9:00am on the Loveland Bike Trail
*walks are weather permitting*
**We are taking a break for the Winter. Please join us when we start walking together again in the Spring!**
The Loveland Bike Trail is easy to walk, with no incline and shaded by trees. All paces and ages welcome. We break off in groups – slow, med, and fast walkers – so no one walks alone.
for more information